Aquapox VL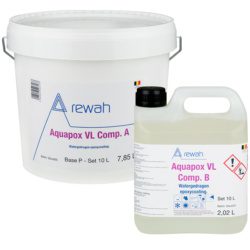 Synthetic coating for floors and walls made of concrete or masonry.
Can be used in for example cellars, parking areas, workshops, …
Indoor use.
Two component.
Water-based.
Does not contain harmful or inflammable solvents.
Perfect adhesion to dry or slightly damp substrates and is resistant to most chemical products, diluted acids and alkalines, mineral salts, oils and aliphatic solvents.
With test certificate: suitable for contact with all kinds of foodstuffs excepting acidic foods (pH < 4,5), including contact at temperatures up to 70°C for up to 2 hours or contact at temperatures up to 100°C for up to 15 minutes.
Technical specifications
Processing:
Components A and B must be thoroughly and mechanically stirred in separate containers.
Component B must be added to component A.
Sufficiently stir until a homogeneous mass is obtained.
Setting time after mixing: +/- 1/2 hours in a temperature of +/- 20°C.
Apply by means of a roller or spraying gun.
Apply in two layers.
The first layer can be diluted with 5 up to 10% water.
The second layer must be applied at the earliest 24 hour after the first layer and at the latest 72 hours after.
Equipment must be cleaned with (soapy) water immediately after use


Consumption:
First layer 0,20 – 0,35 ltr/m² depending of the subsoil
Second layer 0,15 – 0,25 ltr/m²
Colors:
RAL-colours
Gloss : satin glossy
Packaging:
2,5 ltr, 10 ltr
Dosage:
In weight = A : B = 100 : 20,7
In volume = A : B = 100 : 25,6