Artipox ME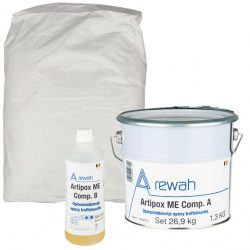 Three-component floor mortar
Base of Bisphenol A epoxide resin and Polyamine hardening mixture.
Industrial epoxy floor coating for heavy loads.
Reparation and finishing layer for concrete floors with high chemical and mechanical strength characteristics.
Leveling mortar to repair large concrete unevenness.
Resistant to acids, alkalies, most solvents, oils, fats, greases and fuels.
Applicable in unlimited layer thickness.
Vapour permeability.
Technical specifications
Processing:
Apply a two-component epoxy primer; Artipox Multi (0,2 – 0,5 ltr/m²).
Mixing process: Component A and component B are mixed thoroughly. Stirr continuously while adding component C (filler) until a homogeneous mass is obtained. Mix exclusively with a mixer.
Pour the mixed Artipox ME in this unhardened layer of Artipox Multi.
Flatten it with a flooring trowel until the desired layer thickness is obtained.
Clean the tools with Articlean 02.

Consumption:
+/- 2 kg/ltr of the space to be filled (= +/- 2 kg/dm³)
Drying time:
Ascendable (with 20°C) after 12 hours
Operational after +/- 2 days
Chemical resistance after +/- 7 dayes
Packaging:
Predosed sets of 26,9 kg
Dosage:
Component A: 1,30 kg
Component B: 0,60 kg
Component C: 25 kg
Related products


 Specific cleaning and degreasing product for epoxy applications.
>>> More info