Botament M21 Flex glue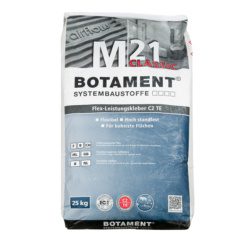 Cement based glue for Membrasec Blue, Membrascreen.
Also applicable on sandstone and stoneware, hand-made tiles, small and medium-sized mozaics
This glue is also suited for insulation panels.
Do no apply on materials that are constantly wet.
Technical specifications
Processing:
Mix with cold, clean water, stirring constantly with a slow speed mixer, until you achieve a consistent, thick and homogenous mass.
After the rest time, mix the material again.
First apply a thin contact layer of Botament M21 Flex glue to the surface, using the smooth side of the serrated spatula.
Then apply Botament M21 Flex glue, using the serrated spatula, to this wet contact layer of adhesive cement.
Lay and align the tiles in the bed of adhesive, applying pressure and gentle sliding movement.
Consumption:
2,5 - 5 kg/m², depending on the roughness of the surface
Colors:
Grey
Packaging:
25 kg
Related products

Thin membrane for the immediate finishing of humid and salty walls after injection against rising damp.
>>> More info