Calisan NHL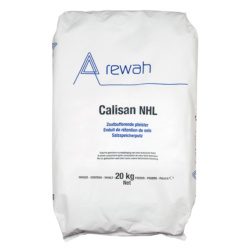 Salt buffering plaster with basis of natural hydraulic lime.
For plastering salty walls.
Used as anti-condensation plaster.
Used as plaster on walls, after injection for rising damp.
For indoor and outdoor use.
Suitable for new buildings and for restoration.
Its open structure works as a salt buffer.
Eco friendly construction material.
Reversible.
2-in-1 : can be used as base coat as well as top coat.
Can also be finished with the Califinish, lime based finishing plaster.
Technical specifications
Processing:
Apply in 2 layers
Consumption:
1st layer: +/- 5,0 - 5,5 kg/m² (bij 0,5 cm layer thickness), dependant on the rouhgness of the surface.
2nd layer: 16,0 - 17,0 kg/m² (bij 1,5 cm layer thickness)
Minimum total layer thickness: 2 cm
Packaging:
20 kg
Related products