Califinish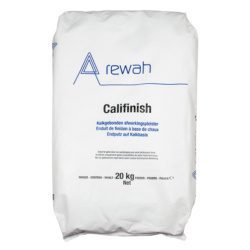 Ready-made hydrophobic finishing plaster.
Based on lime and hydraulic binders.
Mainly used in restoration, as a finishing coat for the salt-buffering plaster Calisan NHL.
Highly vapour-permeable.
Easy to process.
Excellent end result, even on micro-cracked substrates.
Can be used on old walls and painted surfaces (test adhesion prior to use).
Technical specifications
| | |
| --- | --- |
| Processing: | Apply in 1 or 2 layers |
| Consumption: | +/- 1,4 kg/m² per layer thickness depending of the roughness of the substrate |
| Colors: | White |
| Packaging: | 20 kg |
Related products

Realisations with this product