Cemsec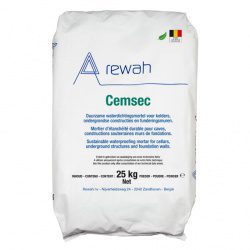 Cemsec is designed for use as a waterproof coating for cellars, underground structures, foundation walls, swimming pools and water tanks.
Cemsec can be applied to either the inner or the outer surfaces, in case of active or passive hydraulic pressure.
Can also be used to create watertight joints.
Pre-mixed product based on polymer cement, fire-dried sand, quartz powder and reinforced with a synthetic fibre.
The addition of water produces a ready-to-use sustainable waterproofing mortar.
After drying and finishing, this mixture offers sufficient tensile strength, bonding strength and compressive strength and is resistant to seepage.
Technical specifications
Consumption:
+/- 5 kg/m² for the bond coat/damp-proof coat
+/- 17 kg/m²/per 1 cm thick for the waterproof coat

Colors:
Grey
Packaging:
25 kg
Realisations with this product