Indurust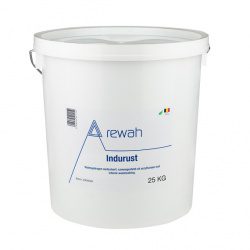 Indurust is used as a protective and preventive coating against rust and corrosion on various metal building materials such as iron, zinc, aluminium, galvanized metal …
Protection and treatment of silos, bridges, pipelines, roof tops, couple trusses, poles, enclosures, …
Viscous paste, ready for use and is available in different colours.
As soon as the Indurust has dried, a seamless impenetrable screen is formed.
This protects the surface from rust and corrosion.
Thanks to its flexibilty, Indurust moves without flaking off or cracking.
Indurust withstands ultraviolet rays, chemicals and airborne pollutants.
The surface to be painted, must be a suitable substratein good condition and should be dry, clean, free from dust, dirt and any loose foreign matter.
Rust and corrosion must be removed by sandblasting, phosphating or wire brushing in accordance with the state of the surface.
Technical specifications
Processing:
Stir before use.
Apply with an airless or apply with a roller or a brush
Apply a maximum of 0,5 kg/m²/layer.
Consumption:
Normal surroundings:
steel: 1 x METARUST PRIMER +/- 0,25 kg/m², 1 x INDURUST +/- 0,25 kg/m²
aluminium : +/- 0,35 kg/m²
galvanized steel: +/- 0,25 kg/m²

Industrial surroundings:
steel: 1 x METARUST PRIMER +/- 0,25 kg/m², 2 x INDURUST +/- 0,50 kg/m² (=2 layers, apply 2nd layer if the 1st layer is completely dry)
aluminium: +/- 0,45 kg/m²
galvanized steel+/- 0,30 kg/m²

Colors:
Standard colors :
Red, Green (RAL 6002), Black, Grey light, Grey dark

RR-colors:
RR 11 (Grey green) RR 31 (Brown light)
RR 20 (Grey white) RR 32 (Brown)
RR 21 (Grey light) RR 33 (Black)
RR 22 (Grey) RR 40/41
RR 23 (Grey dark) RR 750 (Brown copper)
RR 28 (Red)

Indurust is also available in the most current RAL colors.
Packaging:
25 kg
Related products

Water based anti-rust primer and universal binding primer.
>>> More info
Realisations with this product