Monuclean BF 2 NA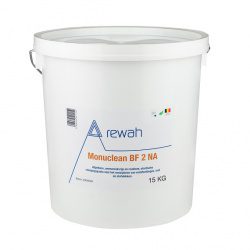 For dry cleaning of dirt deposits such as dust, blackening, dense smoke,soot …
Specially developed for the cleaning of very delicate bases requiring a very soft cleaning method.
Ready to use.
Made of natural rubber with additional dirt absorbent fillers.
The product is chemically not active.
Forms a film when drying in which the dirt from the base is absorbed to a maximum degree.
When dry the elastic, dirt containing film can be peeled off.
Technical specifications
Processing:
Apply on the base by means of a spraying gun with secondary air, a brush or a roller.
Leave the product to dry until a uniform film is formed.
The film formation depends on the ambient temperature and the relative humidity.
Because of this drying time can be between 2 to 12 hours. When completely dry the film can be immediately peeled off.
The maximum waiting time for peeling the film is 1 week.
Do not apply the product on heated surfaces and do not expose to direct heat radiation because the film will become sticky and hard to remove.
The tools can be immediately cleaned with water to which a small amount of ammonia is added.
When using a spraying gun the pipes, filters and gun must be clean.
When in contact with other substances the product could form lumps.
Consumption:
0,7 up to 1 kg/m² on flat substrates. Calculate a higher consumption for uneven or sculpted substrates.
Packaging:
15 kg