Redivit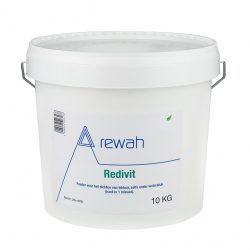 Redivit is a rapidly binding powder which stops leaks and fills up cracks in concrete or masonry, even under water pressure.
Mineral polymer modified mortar.
Hardens in 1 minute. Therefore it enables you to immediately stop water burstings. Attaches itself well to the base. Is ready to use.
Technical specifications
Processing:
Firstly one has to hew the crack into a dovetail joint, until one reaches a solid base.
Mix a little Redivit powder with a bit of water.
Keep the mush pressed firmly into the crack.
Consumption:
As needed
Drying time:
+/- 1 minuut
Packaging:
5 kg, 10 kg, 25 kg
Related products

Sustainable waterproofing mortar for cellars, underground structures and water tanks.
>>> More info