Rewagel Inject 3A+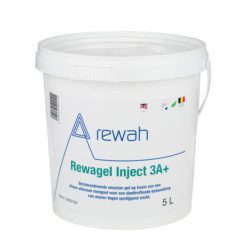 Rewagel Inject 3A+ is a solvent-free product which is easy to use and environmentally sound, for permanent, effective protection from rising damp.
It is pumped, by means of a simple system, into holes drilled in the foot of the wall.
The product is sublimated into the capillaries of silicate building material – in other words, it changes from the gel phase to a vapour phase.
The active ingredient thus spreads out evenly throughout the capillary system of the building material, whether wet or dry, and forms a waterproof damp-proof course at the foot of the wall to prevent rising damp by capillarity.
Rewagel Inject 3A+ is a balanced mixture of various active ingredients which thicken during the production process to create the final product in gel form.
The mixture essentially contains silanes and siloxanes, along with silicone prepolymers which are considered the most effective active ingredients in the various possible methods for treating rising damp (see in particular CSTC Technical Information Sheet 252).
Selected additives have also been added to achieve the desired result.  Rewagel Inject 3A+ is totally solvent-free and contains more than 80% water-emulsified active ingredients.
As sublimation takes place it spreads out evenly through the wall to form a waterproof damp-proof course.
Technical specifications
| | |
| --- | --- |
| Processing: | Apply with our manual or electric pump |
| Consumption: | +/- 0,12 ltr/ linear meter /10 cm wall thickness |
| Packaging: | 5 ltr |
Related products
Manual pump, for injecting the 5 ltr pot Rewagel Inject 3A+.
>>> More info
Realisations with this product