Rewax AG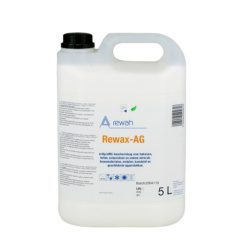 Anti-graffiti protective coating for brick, concrete, stone and other mineral building materials.
Anti-graffiti protective coating for metal, synthetic material and painted surfaces.
One component liquid.
Wax-based.
Does not change colour or gloss on brick (on other materials, a slight change in colour and/or gloss may occur).
Technical specifications
Processing:
Shake the product before use and apply in 2 to 3 thin layers with a brush, roller or spray gun.
Apply the next layer when the previous one is dry.
When applying very thick layers, the product will leave behind a white veil.
Consumption:
+/- 0,15 to 0,40 ltr/m², depending on the porosity.
brick : 0,15 – 0,20 ltr/m2
concrete : 0,25 – 0,30 ltr/m2
white limestone : 0,35 – 0,40 ltr/m2


Packaging:
5 ltr
Test reports:
WTCB report N° DE 57738 (efficiency and influence on aspect)
Related products

Solvent free powerfull stripper for facade paint, safe to use. Free of methylene.
>>> More info