Saltprim 2K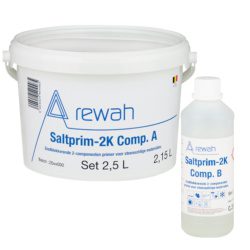 Saltprim 2K is a bicomponent aqueus synthetic resin-based primer.
The product adheres exceptionally well to most surfaces.
After polymerisation, it seals out and prevents any damage caused by hygroscopic and efflorescent salts.
Water ingress to the low-lying parts of a building can also be prevented.
Saltprim 2K can be used to seal out the remains of salts, including nitrates and chlorides on rocky materials and stop them causing damage to top coats.
However, it must be ensured that the source of moisture, which has caused salt efflorescence, is removed before the product is applied.
Saltprim 2K can also be used as a universal primer on rocky materials.
The waterproofing properties of Saltprim 2K also enable it to be applied to the low-lying parts of a building to protect it against the effects of stagnant water, thereby preventing any ingress as well as any damage to the constructions materials.
Technical specifications
Processing:
Add ingredient B to ingredient A.
Then mix vigorously for 2 minutes using a spiral mixer mounted on a drill.
After mixing, the product should be used within 3 hours.
Under no circumstances should the product be used after a period of 3 hours.

Read our technical data sheet for the complete work method.
Consumption:
For blocking salts : 0,15 to 0,25 ltr/m²/coat. Apply at least 2 coats.
As an adhesive primer : 0,10 to 0,20 ltr/m². Apply in 1 coat.
As protection of the low-lying parts of a building against water ingress : 0,15 to 0,25 litres per m² per coat. Apply a minimum of 2 coats.


Colors:
Semi-transparent white
Packaging:
1 ltr, 2,5 ltr