Spiraalanker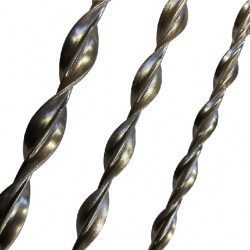 Stabilisation of cracks in masonry.
Used in the renovation and restoration of listed and monumental buildings.
Forms an optimal connection between different parts of the masonry when used with Ankermortel anchoring mortar.
Cold-rolled.
Stainless.
Technical specifications
Processing:
- Prepare the anchoring mortar and apply it into the crack as deeply as possible. Apply approximately 1 cm thick.
- Push the Spiral anchor into the joint and into the anchoring mortar. If necessary, use the anchoring clips to hold the anchor in place.
- Then apply a second layer of anchoring mortar and press. Cover the Spiral anchor with at least 15 mm of anchoring mortar.
- Allow the anchoring mortar to cure for 1 to 2 days.
- Finish the joint using a grout in the desired colour.

Consumption:
As needed
Packaging:
Diameter Dn 6 mm: bars of 1 meter or per roll of 10 meter
Diameter Dn 8 mm: bars of 1 meter
Diameter Dn 10 mm: bars of 1 meter


Related products

Hydraulic mortar for embedding spiral anchors in masonry joints.
>>> More info

Stainless steel clips for securing long pieces of spiral anchor
>>> More info