Tensiocoat Fix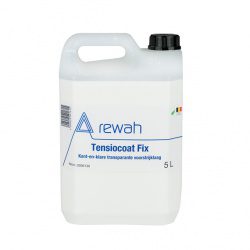 Tensiocoat Fix  is used on a strong absorbent base and/or powdery surface of the base before being painted over with Tensiocoat.
Can also be used as a fixing layer to prevent walls and plastering from forming chalk.
Tensiocoat Fix  is a ready-to-use micro resin emulsion producing maximum penetration of the resin without changing the initial water vapor permeability.
When dry, forms a colourless layer with an excellent adhesion capacity on various building materials.
The base must have sufficient bearing capacity, be sound and clean, all dust, doubtful and loose layers must be removed.
Technical specifications
Processing:
Tensiocoat Fix is ready-to-use.
Apply with a brush, roller or spraying gun and such that there is no film layer formed on the surface.
After the Tensiocoat Fix has dried until transparent, the required finishing coatings of Tensicoat can be applied.
Consumption:
0,1 to 0,2 ltr/m2 depending on the porosity of the base.
Packaging:
1 ltr, 5 ltr
Related products

Moisture-proof, microporous and vapour-open coloured coating composed from a dispersion of micropolymers and a silane hybrid.
>>> More info
Realisations with this product