Tensiocoat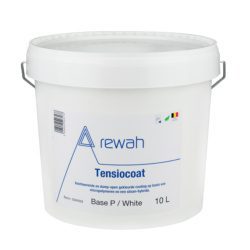 Outdoor paint, used as decorative, moisture-proof protection of various construction materials such as brick, stone, concrete and all hydraulic or synthetic bound plastering.
Tensiocoat is the answer for treatments whereby the microporous properties of a mineral paint and the moisture-proof characteristics of a high-grade acrylic paint are required.
Used in new constructions and renovation.
Semi-liquid coating in a matte finish, ready for use and available in various colours. Apart from the white standard colour we offer a broad range of colours, from pastels to strong tones, in accordance with various colour charts.
We also offer the base coatings for custom-made colours using the Monicolor system.
When dry Tensiocoat forms a protective layer that is as moisture-proof as a high-grade acrylic paint but also has the microporous and vapour-open qualities of a mineral paint.
The result is an ideal protective layer whereby the treated material keeps its properties with respect to the moisture exchange with the environment.
Even trapped water due to design or construction errors is able to dry without causing damage.
Thanks to the tensio-active quality of the coating water and dirt do not penetrate the film resulting in a permanent unsoiled and easy to clean surface.
The coating also forms a layer that is non-flammable and does not spread flames.
Technical specifications
Processing:
Apply with a brush, a roller or an airless gun in two layers.

Consumption:
0,150 – 0,250 ltr/m²/layer
Drying time:
The normal drying time between two layers is 4 hours.
Colors:
Rewah Paint Colors (2024 colours) + wide range of colors available on the coloring machine.
Supermat (85°: < 1)
Packaging:
1 ltr, 5 ltr, 10 ltr
Test reports:
Univ Gent: report 11328B: Fire reaction
Setsco CT-4697/JA/1: Carbon dioxide Diffusion resistance
- Cori: ES-160415a: Waterdampdoorlaatbaarheid
- Setsco CH-13498/LZP: VOC