VANDEX®PK 75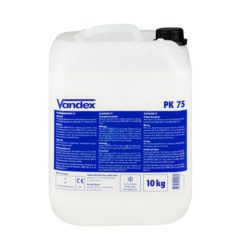 Liquid to be added to the Vandex®BB 75, used for the preparation of Vandex®BB 75 E.
Used for the watertight protection of masonry and conctrete.
Recommended when there is a risk of cracks in the underground : swimming pools, subway tunnels, bridges, concrete walls, transition between different materials, concrete elements.
Synthetic liquid, when added to Vandex®BB 75, gives the system the necessary elasticity.
Technical specifications
Processing:
Mix the water and the mortar intensely (at least 3 min.à with a mechanic mixer : 25 kg Vandex® BB 75 (powder) and 10 kg Vandex® PK 75 (liquid) to be mixed carefully.
Let the mix rest during approx. 2 minutes, and stir vigorously before application.
Apply with brush or trowel or adapted airless gun.
Apply in 2 layers on concrete or cement plastering, 3 layers on masonry.
Stir the mortar regurlarly while working.
Protect the fresh mortar fromsun and wind, preventing it from drying too fast, by keeping it humid.
Consumption:
Vandex® BB 75 E: +/- 2 kg/m² per layer
Vandex® BB 75: +/- 1,43 kg/m²/per layer
Vandex® PK 75: +/- 0,57 kg/m²/per layer

Colors:
White
Packaging:
10 kg
Related products

Cement based grey waterproofing mortar for underground constructions.
>>> More info

Two-component elastic cement-based waterproofing mortar.
>>> More info