Cemgrip S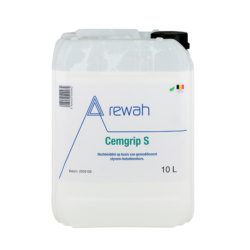 Cemgrip S is a watery dispersion of modified styrene butadiene resins with a high saponification resistance, which is added to the gauging water of the mortar or concrete. It is suitable for use with all hydraulic binders.
Cemgrip S is used as an adhesion agent in: laying and joint mortars for tiles, natural stone, …
Used in the bond coat applied during repair work.
With he production of open structure concrete, as an adhesive link between new and old concrete.
Can also be added to the Kalei Liscio 2, for extra binding.
Offers very good adhesive qualities, even in thin layers.
Gives the mortar it is added to an improved plasticity, an improved compressive strength, tensile and wear resistance.
It also offers to the mortar a higher resistance to many types of salts and acids.
Technical specifications
Processing:
Cemgrip S should always be added to the gauging water of the mortar or concrete.
Use in mortar or concrete : 1 to 5% of the cement by weight or 0,5 to 2,5 ltr per 50 kg cement.
Use in adhesive link : 1 part Cemgrip S to 3 parts water by volume, brush onto old concrete, in the case of thick layers.
Use in Cemsec : adding 2% as salt blocking in the cement slurry layer (0,5 ltr Cemgrip S per bag of 25 kg of Cemsec).
Use in Kalei Liscio 2 : depending on the colour of the Kalei. Consult the technical data sheet of the Kalei Liscio 2.
Consumption:
Depending on the use, read our technical data sheet.
Colors:
White
Packaging:
5 ltr, 10 ltr
Related products

Sustainable waterproofing mortar for cellars, underground structures and water tanks.
>>> More info

Cement-free and colourable fine lime mortar, with a neutral hydraulic lime base and mineral
>>> More info

Realisations with this product