Estetik Plafond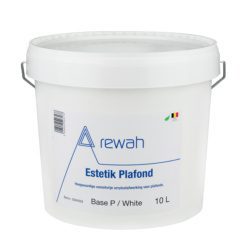 Very matt topcoat for plaster ceilings, plasterboard sheets, concrete, etc, ..
Super-matt look.
Cover-all finish.
Exceptionally fluid.
Good coverage.
Stays workable for a long time when open.
Easy to work with.
Does not splash.
Ideal base coat for Estetik Prim.
Technical specifications
Processing:
Brush or roller : non-diluated
Recommended roller : polyamide (no micro fibre)
Airless : 0,017"-0,019"; 200-220 bar (160 bar with FFLP tip Graco)
Ambient temperature : minimum 10°C
Relative humidity : maximum 80%




Consumption:
0,10 – 0,15 ltr/m²/per layer depending on the base
Drying time:
Dust-dry after 1 hour
Can be painted over after 4 hours
Colors:
White and light colors on the coloring machine.
Mat (< 1GU / 85°C)
Packaging:
1 ltr, 2,5 ltr, 5 ltr, 10 ltr
Related products

Top-quality functional acrylate primer for indoors.
>>> More info

Universal, insulating, water-based primer for interior and exterior use .
>>> More info