Nafufill KMH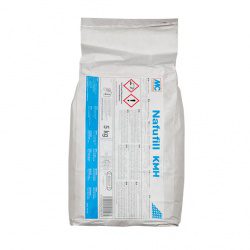 Active corrosion protection for reinforced steel in the course of concrete repair.
Bond coat for interior and exterior areas.
Approved for PCC I and PCC II according to ZTV-ING.
According to DAfSB-repair guideline approved for exposition classes M2/M3.
Certified and classified according to EN 1504 part 7 for principle 11, procedure 11.1.
Cement-bound.
One-component.
Short overcoating times.
Tested and independently monitored according to ZTV-ING, TL/TP DE PCC and DAfSb-repair guideline for exposure classes M2/M3.
Certified according to EN 1504 part 3.
Technical specifications
Processing:
Add to the prepared water under constant stirring and mixed until a homogenous and lump-free mortar with an easy-to-spread consistency is achieved.
Mixing takes at least 5 minutes. Use slowly rotating mixers.
For a 5 kg bag of Nafufill KMH approximately 0,9 to 0,95 litres of water is required.
As with other cement-bound products the quantity of added water may vary.
Consumption:
120 g/m as corrosion protection, 1000 – 1100 g/m² as bond coat


Packaging:
5 kg
Related products

Fibre reinforced light weight mortar with integrated adhesion layer for the repair of normal and light concrete.
>>> More info

Fine mortar for levelling of concrete surfaces of civil constructions and tall buildings.
>>> More info