Saltpull Type 2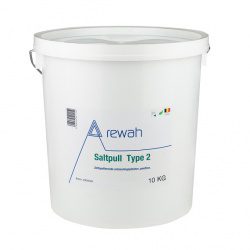 Poultice for removing the salt out of masonry.
Due to its special composition and the application technique, salts migrate through advection to the plaster, wherafter it is removed from the wall.
Based on clay, cellulos fibers and calibrated sand.
Specific use for monuments and monumental heritage.
De residues can be cleaned with the Monuclean BF4 NA cleansing paste.
Technical specifications
Processing:
Prepare the mortar by mixing the components and water.
The componants are already in the correct proportion, pre-mixed with 5 lts of water per dry package.
On the work place, 3 liters of water must be added per full package. The quantity can be adapted to the wanted consistency. The rule is 0.8 ltr water for 1 kg dry product.
Use demineralized water for the preparation.
Add water in bits, until wanted consistency is obtained.
Apply the mortar in 1 - 2 cm thick layers.
Depending in the humidity in the air: leav the mortar during 6 to 15 days on the wall.
After drying, the mortar is easy to remove from the wall. Cleansing is possible with the dry cleaning paste Monuclean BF4 NA.
Consumption:
7 - 10 kg/m² per cm layer thickness
Packaging:
10 kg
Realisations with this product